According to the World Health Organisation, 80,000 children die every year from unintentional injuries. These include injuries in the home. Home must be the safest space for any child, and must be conducive to his daily activities, including play. When you childproof your home, you make your home safe for your child, such that he is not likely to hurt himself as he goes about playing, exploring and learning.
Countries have laws that mandate parents and caregivers to protect children from hazards. For example, s6(3)(a) of Ghana's Children's Act 1998 states that children are to be protected from 'neglect, discrimination, violence, abuse, exposure to physical and moral hazards and oppression'. Therefore, childproofing a home is actually a legal as well as a parental duty.
Some measures to put in place in a home for every child's safety include
1. Hide power cables
Exposed power cables can cause falls. They can also electrocute your child. To childproof your home, keep the power cables in every space hidden. And use outlet covers and plates that are large enough to prevent the toddler swallowing and choking on them. If you are yet to build your own home, consider hiding power cables during your design stage.
2. Avoid furniture with sharp edges
With a child at home, playing indoors is inevitable and so having sharp-edged furniture can be dangerous. Get round-edged furniture. Alternatively, get edge or corner bumpers fixed to the edges of your furniture.
3. Netting and guards along balconies and windows to prevent falls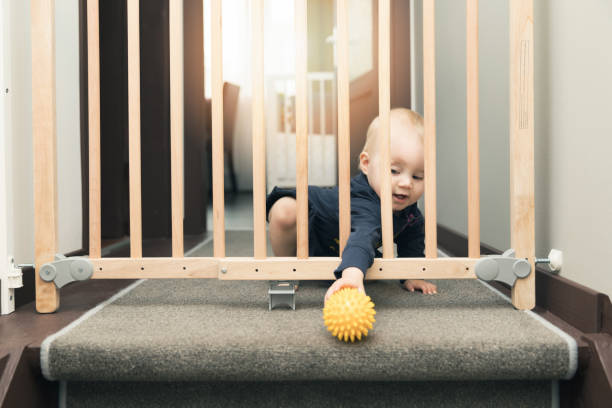 Your child can fall through open balconies and windows. So childproof these spaces with guards which are properly installed and regularly maintained. Guard bars should have limited spacing to prevent children slipping through. Install them properly to make the guards stable even when your child leans on them.
4. Door knob covers and door locks
To avoid child poisoning and injury, secure doors to high risk areas in the home with locks and knob covers. This is to prevent your child from opening them easily. These places include cabinets, drawers in the kitchen, bathrooms, laundry rooms and other areas that may contain poisonous substances and objects. These locks should be easily accessible by adults in time of need but withstand pulls from children.
5. Keep hazards out of reach
Keep candles, lighters and matches out of your child's reach. Additionally, in the kitchen, small appliances should not be accessible to your child. Also, be sure to clear counter tops from all sharp and hazardous objects. Furthermore, appliances should not have their cords sticking out to attract children to pull them. Do not keep pressing irons plugged in. Do not leave your kitchen stools out, as your toddler can climb them and reach objects high up. Similarly, the probability of the child knocking down photo frames is high. So they should be wall mounted- away from your child's reach and hit during runs and play. Also, they could be made of plastic instead of glass.
6. Friendly floors
Always remember to keep floors dry, especially in the kitchen, bathrooms and laundry rooms. Vinyl flooring materials are best for a child's safety. For the kitchen, porcelain tiles are best.
Now take a close look at the spaces in your home. Is your home safe for your child? We can all make our homes safe spaces for children with these simple childproofing strategies.
Written by Lawrencia Amartey, freelance architectural designer.